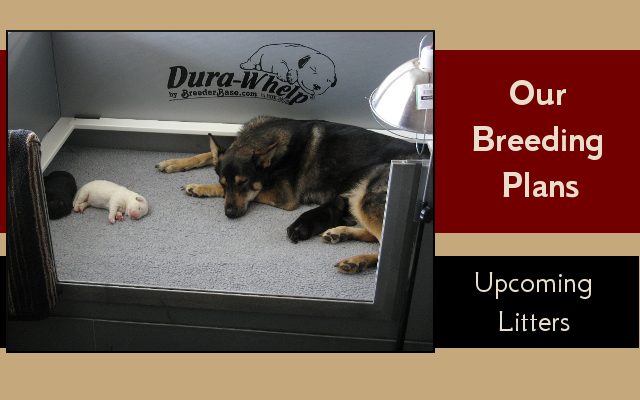 Our Puppy Plans
Upcoming Litters
Currently Sparta has no concrete puppy plans, and we aren't accepting any applications. We are considering trying a litter with Blazie this coming winter, with pups ready in the spring of 2018. However, we don't expect these plans to firm up for a couple of months yet.
If you're in the market for a Shiloh pup and you really want to commit sooner than that, please do look at our listing on the main ISSA website of Upcoming Litters all over the world! There is at least one planned soon in the Oklahoma City area (not too far from north Texas) and most breeders in other locations ship pups regularly. Here's the link to that page:
How We Proceed
When we DO decide on having a litter, we'll post here on this page. You can find our contact information on our Contact page, here. Drop us a note if you have any questions or think our litter might be a good fit for you!
The way Sparta operates is that we don't like to take applications until we have a successful breeding, and we don't take deposits until pups are confirmed and born. At that time we will solidify our list and take deposits. This means that we aren't holding on to your money for months while we wait to see if the litter is a sure thing, and at any time you can decide to pursue a litter with a different breeder without us having to refund you! Much more convenient for everyone.
Before the pups are born, the order you contact us and submit an application in is the order you go onto the list. If a person ahead of you on the list decides not to put down a deposit after all, you get bumped up. The first slot is almost always reserved for a potential breeding or show pup to go to a breeder or be retained by Sparta, though if none of the pups is breeding quality or no breeders are interested in the litter, then the second spot goes into first!
Breed Quality Dogs
We are ALWAYS pleased when a family is willing to help out in our breeding program by keeping a good quality dog intact--either to have a single litter, if a female, or to keep a male intact to be a stud. We encourage our stud owners to show their dogs and to share lots of photos on Facebook, as it will get them "out there" and get breeders interested in using them. Anne likes to show and is willing to travel to help one of our puppy people learn the biz in the relaxed, friendly environment of the rare breed show world.
Owning a breeding quality pup can be a little bit more work, but it is also very rewarding to know that you're helping to keep this very special breed moving forward into the future.
Becoming a Breeder
If you decide that you might like to help on a higher level and actually become a breeder, ISSA has a great training program in the works! Anne is always available to mentor and enjoys teaching new people the ropes, so we can guarantee a thorough education if you want to step into this phase of the Shiloh life!