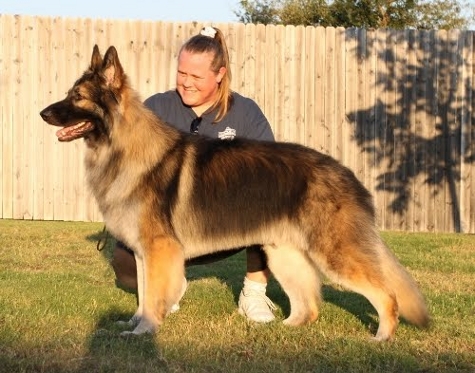 * Signers of the Breeders Code of Ethics *
* See Our Ads In Dog Fancy and Dogs USA! *
Hello and welcome to the Sparta Shilohs website! We are located in Denton, TX, just a little bit north of Dallas. My husband and I are Licensed Breeders affiliated with the ISSR--the International Shiloh Shepherd Registry.
Zak and I got our first ISSR Shiloh Shepherd, Leo, from breed founder Tina Barber of New Zion Shilohs back in 2007. After our Leo won a Best in Show out of the blue at the Shiloh Shepherd Homecoming when he was only ten months old, we realized we had a dog we had to show!
Since then we've enthusiastically jumped into the world of rare breed dog shows and are members of our local obedience club, as well as serving as officers in our local Chapter of the Shiloh Shepherd Dog Club of America (SSDCA). We love to introduce new people to the breed and if you want to meet a real deal Shiloh Shepherd and live anywhere near to us or anyplace we'll be traveling, we would love to set up a meet 'n' greet with you!
Thanks so much for visiting and we hope you enjoy the site,
--Zak and Anne Becker